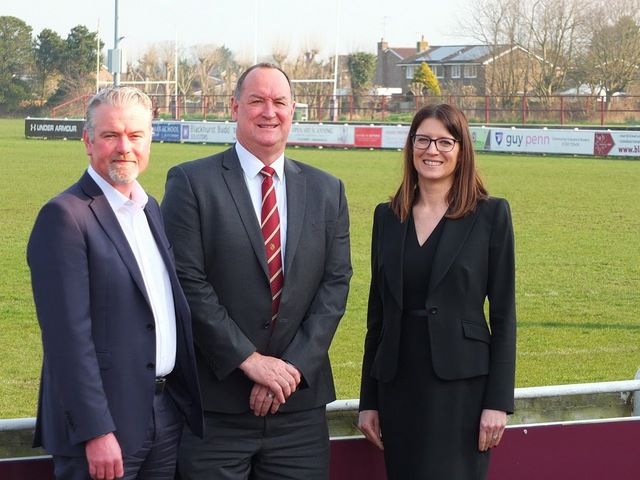 Guy Penn announce partnership with Flyde Rugby Club
Guy Penn Insurance will become the first local commercial organisation to benefit from a new approach and partnership with Flyde Rugby Club. The agreement, which also sees Guy Penn announced as the Club's official Insurance Broker, will feature a blend of mutually-beneficial promotional activities.
Fylde members and sponsors will all enjoy a discount, with an additional benefit that on any new business or personal insurance policy arranged they can choose to claim this discount for themselves or pass it back to the club.
Fylde Rugby Club and Guy Penn hope that the initiative will raise a substantial amount in personal member's savings or donations to the Club.
For Guy Penn, Simon Carter – who is also a community coach with the Club – reveals: "This was a refreshing new way to do business. As a Community Insurance Broker we identified our relationship with Fylde Rugby Club as an opportunity to work together and make a real difference. We've enjoyed the benefits of advertising in the programme and on pitch boards in the past. We wanted that to continue, plus we wanted to deliver more. This is an exciting new chapter for us both."
Anthony Hoskisson, Fylde Rugby Club commercial lead said: "In the past, we've offered our partners a suite of sponsorship, hospitality and promotional products. With Guy Penn, we made a decisive strategic move to handle things differently. We wanted to go deeper than a simple transaction. We asked how the partnership could benefit the business, the club and and our community of supporters. So excitingly, this announcement is the result.
"We take the needs and hopes of our supporters seriously. So, we hope they'll be as delighted as we are that a local company like Guy Penn is choosing to back our local community club and its loyal supporters"
Guy Penn and Company Ltd was established by Guy Penn – an avid Fylde Rugby Club supporter – in 1971. Today, they have almost 50 staff managing both commercial and personal insurance under the guidance of Managing Director Kierson James, with offices in four market towns being; Lytham St Annes, Kirkham, Poulton Le Fylde and Lancaster.
Photograph left to right – Simon Carter (Business Development Manager, Guy Penn), Anthony Hoskisson (Commercial Lead at Fylde Rugby Club), Sara Kerr (Director, Guy Penn).